Our Story
Goff We Go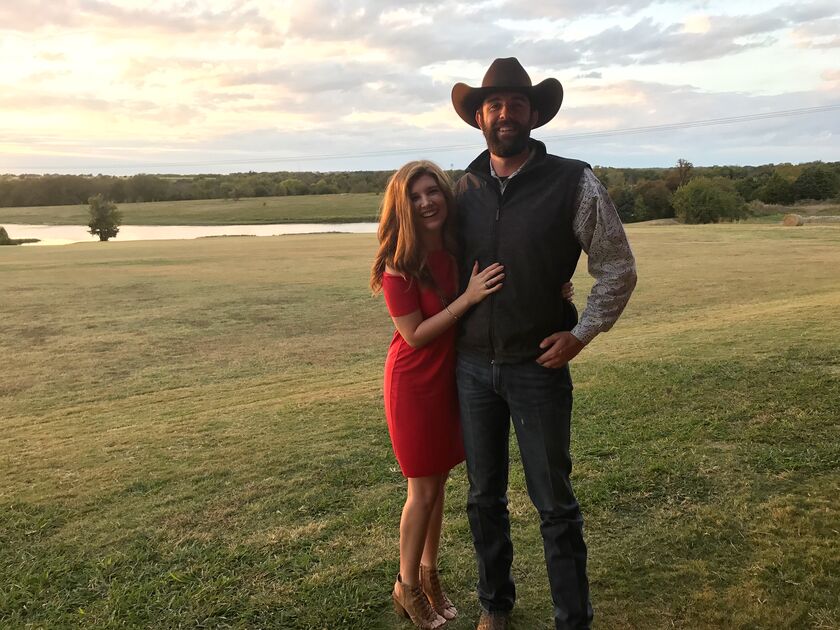 Brittany's version: We could trace credit for our relationship all the way back to mutual family friends, but ultimately chalk the credit up to our brothers, Joseph and Jeff. Joseph and Jeff played on the Varsity basketball team at Covenant Christian Colleyville for three years. During these two years, our families grew close while Michael and I conveniently missed paths. Michael and I knew of one another, but never had a 1:1 conversation until the very last season of Covenant basketball for our senior brothers. Michael would drop by my section of the bleachers following a mid-game restroom break and everyone around us knew...it's only a matter of time. February 2015, I had a work event at a Dallas Stars game and needed a date. Thanks to some encouragement from my sweet mom, I sent Michael an Instagram message inviting him (since I didn't have his phone number). Like the gentleman he is, Michael asked for my phone number, gave me a call, and ask me to a proper dinner date. Little did Michael know, Saturday was Valentine's Day. We went to dinner and Michael intentionally pursued me for months to follow until we decided to make things a bit more official and try this dating thing. From that day on, Michael and I have been patient, experienced high highs and low lows together and ended up approaching this sweet thing called marriage. We could not be more grateful for the Lord's timing, lessons that only come with sweet time, and the bond He gave Michael and I from date one. We are one extreme and the other and know the Lord made us this way to stretch one another to a place that may not always be our comfort zone. We cannot wait to celebrate the start of our forever with each of you in a few months! We are blessed beyond words and cannot wait to see how the Lord will use us as a couple for His Kingdom!
Michael's version: Ditto.........
I'm kidding. The first time I saw Britt, my brother Samuel pointed her out at our brothers basketball game. He said, "you should date the Barr girl" referring to Brittany. I brushed it off trying to play cool, but I remember thinking, she is absolutely gorgeous. From then on every time Brittany walked into the gym; I stopped and stared like Squints Palledorous when Wendy Pfercorn walked by him in the Sandlot. Well with the encouragement from a family friend and my dad, I was finally working up the courage to ask her out. But still a little hesitant because I thought, she wouldn't want to go out on a date with a bearded guy. Well she beat me to the punch and reached out to me first through instagram first, like she said. I did ask her out to dinner that Saturday, but I was so excited that we were going on a date that I forgot Saturday was Valentines Day. I frantically scrambled to find a restaurant. Thankfully found one and it all went smoothly......so I think. The Lords timing has been perfect through this season of life for us. We can't wait to see what He has in store for our adventure for the next 80 years.
We have been dating for over 2 years now, and have shared so many laughs, a few tears, a hospital visit of two. Have met and made so many great life long friends. To say that I'm excited to marry the most beautiful girl in the world and my best friend would be an understatement. We are so excited and honored that you are celebrating with us on our big day!
The Wedding
Saturday, May 26, 2018
6:00 PM
Attire: Cocktail
Ceremony and Reception
Flying V Ranch Event Venue
297 Co Road 1170, Decatur, TX 76234, USA
Wedding Party
Jessie Barr - Maid of Honor
Jess has been my best friend since I was three years old. She is studying at OU to receive her MASTERS in speech pathology and will graduate two weeks before the wedding. Make sure to give her a tight squeeze on May 26th as she will be the first Barr to graduate with a masters degree and we are so proud of her!!
Meghan Reilly - Bridesmaid
Meghan and I go all the way back to freshman year of high school. Meghan has been a friend I could count on since high school. We lived together for two years in Dallas and really started our post college lives exploring Dallas together. I'm not sure where I'd be without this friend! Love you, Meg!
Courtney Castleman - Bridesmaid
Oh Courtney. Courtney and I met at Watermark Community Church in Dallas when we took the leap of faith in joining a community group. Courtney is a voice a truth. If you want a fearless friend....this is her. Courtney is a giver of everything she is to help others. I have learned so much about our Lord through our friendship.
Haeden Guarnera - Bridesmaid
Haeden started as my little in our sorority, Delta Gamma, and grew to be so much more than that. Haeden is one of my dearest friends. She is so intentional, never forgetting a single milestone. Haeden is the biggest OU football (& baseball) fan you'll ever meet and is always willing to drop anything she has on the calendar for a girls weekend. Love ya, Haeden.
Katarina Ferrall - Bridesmaid
Katarina is one of my sorority sisters. We met freshman year at OU. Have you ever had a friend you instantly clicked with? Someone it doesn't take time or effort to grow close to but it just somehow happens? That's my Katarina. Katarina is a Kansas City native, old soul. This sweet friendship fills my cup so full!
Rachel Polk - Bridesmaid
Rach and I met through our community group at Watermark. Rachel is one of my sweetest friendships as she knows how to pull the best out of me. Rachel is the most loyal friend you'll ever meet. Her and I both value quality Chick-Fil-A lunch dates and her fearless spirit is contagious. I love ya, Rach.
Catherine Lack - Bridesmaid
Catherine and I met back in college. We were both students at Gaylord College and involved in the student operated advertising and pr agency, Lindsey + Asp. Catherine and I grew really close once we both moved to Dallas following graduation. I began to realize how fun Catherine was and kicked myself for not forcing her to be my friend sooner. Catherine is married to Monty, who is also in our wedding party. Monty and Michael were friends at first site (literally) and we couldn't be more blessed to be couple friends :)
Lauren Haynes - Attendant
Lauren is one of the most joyful friends I have. She radiates joy and happiness everywhere she goes! Lauren was my big sister for Delta Gamma and is still one of my very closest friends and a BOMB kindergarten teacher. Lauren is a friend that you know will always be there to lift your spirits and give you a squeeze! Love my Lauren!
Mary Beth Carter - Attendant
MB was one of my first "Dallas" friends post college. Her and I connected while looking for a church home in Dallas and my friendship with Mary Beth led me to find my home at Watermark Community Church. Mary Beth is loyal and hardworking. Her and I have the joy of being friends and working alongside one another for W&HC. MB is a golden retriever mama, ranch woman and rising corporate VP. What a treat it is to have a best friend in Mary Beth!
Bekah Capps - Attendant
Bekah is one of my best friends from college. She was a Delta Gamma with me and also in the Advertising program at Gaylord College. Bekah is one of the most loving people I have ever met. She invests herself in the lives of her friends and makes you feel like the most important person in the world. Love ya, Bekah :)
Benjamin Goff - Groomsman